Healing in Arts
Healing in Arts is donor supported
You can get involved, donate securely on the Healing in Arts web site.
Interactive Healing Installations
Artist and facilitator Pamela Alderman creates a new kind of artist/citizen work that invites audience collaboration. The work lets others speak and respond.
I could not hold back my tears. Thank you so much for creating a work of art that we could all be a part of and leave our mark on…
Pedro – ArtPrize Seven (2015) visitor response
Pamela Alderman is a very talented artist, but she is much more than that. She is a woman concerned about a greater artistic endeavor—the protection, welfare, freedom, dignity and worth of all women. Her exhibit "The Scarlet Cord," masterfully opens the eyes of the public to the sad and destructive world of human trafficking. She exposes the dark side, but is always ready to show the path to redemption and healing.
Michael Cook
Manager of Programs, Acton Institute
The stories paired with the paintings bring your beautiful message and characters in the paintings to life!
ArtPrize 2010 visitor response
ArtPrize ushered Pamela's early paintings onto a large stage—with thousands of people visiting the Amway Grand Plaza Hotel where her Woman in Red collection showcased in 2010—even though she was just returning to painting. ArtPrize became a catalyst for Pamela to discover that her work had expanded beyond individual paintings to creating interactive installations where visitors experienced art's powerful potential to heal.
Just the act of writing the message and hanging it on the tree made me feel like I was part of the healing process.
ArtPrize 2011 visitor response
In 2011, Braving the Wind—a depiction of a young woman's cancer battle combined with an interactive Healing Tree—invited visitors to honor loved ones who struggled with cancer. Nearly 20,000 ArtPrize visitors participated by hanging notes on the tree. Many shed tears. Pamela recalls, "As the artist, I only needed to get out of the way and allow the audience to become part of the story."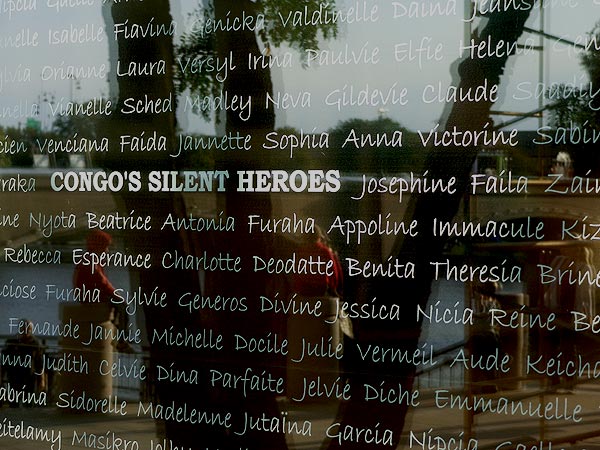 A window honoring Congolese rape survivors, from half a world away, and seven-foot pillars portraying the stories of courageous refugee women prompted several ArtPrize 2012 visitors to confide their own rape stories. In those tender moments, Courage Ablaze helped facilitate small healing steps.
ArtPrize 2013 Photo by Paul Willis
The next year, visitors were invited to write a note for children in need and to hang it on the wall for Pamela's Wing and a Prayer installation in 2013. She prepared 20,000 vellum cards. To her astonishment all the vellum cards were quickly used and visitors started posting her business cards on the wall. "ArtPrize visitors' desire to participate in the healing process couldn't be stopped," says Pamela. "They created their own pathway to respond."
Your art helps us emotionally connect to issues we might only understand on the intellectual level.
ArtPrize visitor response
Whether focusing on heart disease, cancer, rape, autism, or sex trafficking, Pamela's installations raise awareness and invite visitors into a healing space. Dozens of stories have emerged as people identify their struggles and release their hurts. ArtPrize created the opportunity for Pamela to exhibit her transformative installations, and visitors validated art's healing power.
You can get involved with your donation
Donate securely on Healing in Arts to help Pamela continue her healing message