Latest News
Courage Ablaze in Permanent Collection at GVSU
A reproduction of the Courage Ablaze painting featured at ArtPrize 2012 has joined the permanent collection at Grand Valley State University.
Courage Ablaze Voted Top 100 Finalist!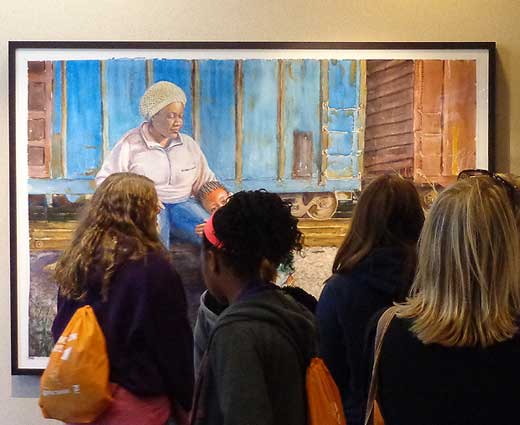 Thank you to all who visited Courage Ablaze and for your votes and support. Courage Ablaze finished in the Top 100!
Courage Ablaze Featured by Local Businesses
I would like to thank Macy's and Barnes & Noble of Rivertown for their continued support of my ArtPrize entries:
Macy's of Rivertown Mall (above left)
Barnes & Noble of Rivertown Mall (above right)
2012 ArtPrize Entry: Courage Ablaze at the Amway Grand Plaza Hotel
Courage Ablaze at ArtPrize 2012
September 19, 2012 through October 7, 2012
Amway Grand Plaza Hotel • Grand Rapids
Women's Expo 2012 at DeVos Place
Hundreds of visitors added more Hope Cards to the Healing Tree at Women's Expo 2012. After ArtPrize 2011 and Women's Expo, more than 20,000 Hope Cards were added to the Healing Tree to honor loved ones fighting cancer.
Hope Lodge Showcases Pamela's ArtPrize 2011 Work
Braving the Wind joined the permanent collection at the American Cancer Society Hope Lodge. I would like to thank Miller Johnson of Grand Rapids for its generous support of my ArtPrize 2011 entry.
ArtPrize 2011 Exhibition: Braving the Wind
Kara, a Metro Health Cancer Center survivor, inspired the Braving the Wind series for ArtPrize 2011. She was only 28 when she was first diagnosed with lymphoma. Resolved to beat her cancer, Kara grasps this famous quote: "The miracle isn't that I finished; the miracle is that I had the courage to start."
Braving the Wind
September 21, 2011 through October 9, 2011
Amway Grand Plaza Hotel
Grand Rapids, Michigan
Pamela is a participating ArtPrize artist since 2009
Original art by Pamela Alderman ©2011 Pamela Alderman - All Rights Reserved
Braving the Wind in Grand Rapids Press
Braving the Wind and the Healing Tree have been featured in the Grand Rapids Press. See the article on mlive.com.
Local Businesses Welcome Braving the Wind
Ron Zeiter, vice president of Macy's, writes, "In 2010, Pamela displayed a reproduction of her Art Prize entry portraying a heart disease survivor at Macy's. This past fall Pamela was kind enough to share her ArtPrize 2011 entry of a cancer survivor with the store. I commend Pamela on using her gift to advance awareness of woman's health issues and generously reaching out to the community to share her work."
Macy's of Rivertown (above left)
Barnes & Noble of Rivertown (above center)
D&W Fresh Market stores (above right)
Pamela Interviewed on Morning Show With Shelley Irwin
Pamela's WGVU Morning Show interview with Shelley Irwin was aired September 9, 2011 to discuss a behind the scenes look at the Braving the Wind watercolor series being featured at ArtPrize 2011.
Braving the Wind Featured in Women's Lifestyle Magazine
The September 2011 edition of Women's Lifestyle Magazine features the story behind Pamela's ArtPrize 2011 exhibit, entitled Braving the Wind, which portrays the story a young cancer survivor from The Cancer Center at Metro Health. The viewer is also invited to participate in the artistic process by writing his or her own story or the names of loved one—who have bravely fought a cancer battle—on a Hope Card and hanging it on the Healing Tree. In doing this, we celebrate their memories, their continued perseverance, or their renewed health.
TWSA 35th National Exhibition
The Transparent Watercolor Society of America (TWSA) will be showcasing Pamela's painting, entitled Stillness, at the national exhibition. The exhibition runs from May 7, 2011 through July 31, 2011.
Kenosha Public Museum
5500 1st Ave.
Kenosha, WI 53140
2011 Women's Expo Features Woman in Red
Mark your calendar for March 11 through 13 and enjoy a day with a friend at the 2011 West Michigan Women's Expo. This year the Expo will be featuring Pamela's ArtPrize series Woman in Red, honoring the American Heart Association's Go Red For Women.
DeVos Place • 303 Monroe NW • Grand Rapids, MI
Pamela's solo exhibition, entitled Healing Reflections, is being featured the first four months of 2011 at the Leep Gallery in Grand Rapids.
Exhibition details:
January 5 through April 1, 2011
Leep Gallery (located in the Postema Center)
Pine Rest Christian Mental Health Services
300 68th Street SE
Grand Rapids, MI 49548
The Leep Gallery is open weekdays, 9 am - 4 pm
Pamela's ArtPrize 2010 paintings, entitled Woman in Red, are now being featured at the Heart and Vascular Center of Metro Health Hospital in Grand Rapids.
Pamela's paintings joined the public collections at the following Children's Hospitals:
Children's Hospital of Boston, Massachusetts
Children's Hospital of Denver, Colorado
Children's Hospital of Minneapolis, Minnesota
Children's Hospital of Philadelphia, Pennsylvania
Children's Hospital of St. Paul, Minnesota
C.S. Mott Children's Hospital of Ann Arbor, Michigan
Helen DeVos Children's Hospital of Grand Rapids, Michigan
Lurie Children's Hospital of Chicago, Illinois
Metro Health Hospital of Grand Rapids, Michigan
Rady Children's Hospital of San Diego, California
Rainbow Babies and Children's Hospital of Cleveland, Ohio
Seattle Children's Hospital of Seattle, Washington
Throughout November and December, 2010, the Guest Artist Series of Saint Mary's Hospital in Grand Rapids was showcasing Pamela's artwork in their main lobby.
Saint Mary's Hospital
200 Jefferson SE
Grand Rapids, MI 49503
To help raise awareness for heart disease and the Go Red For Women initiative, Macy's Department Store in Grand Rapids displayed Pamela's painting, entitled Standing Against the Wind, during September and October, 2010.
The Philadelphia Water Color Society selected Pamela's painting entitled, Companions, for the 110th Anniversary International Exhibition of Works on Paper.
The American Heart Association's Go Red For Women movement inspired Pamela's Woman in Red series that exhibited at ArtPrize 2010.
ArtPrize
September 22, 2010 through October 10, 2010
Amway Grand Plaza Hotel • 187 Monroe NW • Grand Rapids, Michigan
July 1, 2010 through July 31, 2010
The Sky Walk Gallery at Children's Hospital of Wisconsin
Milwaukee, Wisconsin
For ArtPrize 2009, Pamela's original watercolor painting, Companions, was on display at Open Concepts Gallery in Grand Rapids.
The Art League of Hilton Head selected Pamela's paintings entitled, Intent, for the 2009 National Juried Art Exhibition. The exhibition was held at the Walter Greer Gallery, Arts Center of Coastal Carolina, Hilton Head Island.