Latest News
The Yellow Ribbon Project at Steelcase
We are excited to announce that Steelcase Inc. featured the Yellow Ribbon Project at nine locations around the country, where their employees had an opportunity to interact and write inspiring notes. This successful initiative continues to activate new creative spaces that help facilitate a local sense of community, as we rally behind our veterans and troops.
The Blue Star Mothers, moms of military service members, will include these notes, plus the 10,000 ribbons from ArtPrize visitors, in care packages to deployed soldiers and veterans, as a reminder of the communities that support them.
Yellow Ribbon at ArtPrize
Honoring Our Veterans and Those with Invisible Wounds
September 16 through October 3, 2021 • [Has Heart] at Veterans Memorial Park
Thank you to Governor Gretchen Whitmer for supporting the Yellow Ribbon Project for ArtPrize 2021
Yellow Ribbon on the Bridge
See the News 8 TV interview prior to the Yellow Ribbon on the Bridge event…
Red Jeans Redemption Live Painting at SEE: Solutions to End Exploitation
In February of 2020, the Red Jeans Redemption project was expanded to include Pamela's live painting performance with an opportunity for audience engagement. During this segment, audience members wrote ways they can help end exploitation on scraps of red denim. Then, Pamela, along with Anna Donahue and Susan Anderson, incorporated the audience's responses into a large canvas painting. This live collaborative experience reminded visitors of the healing redemption found when shame and secrets are released and met with a compassionate response.
Senior Care Projects at Holland Home
The Breton Woods and Raybrook Assisted Living Facilities commissioned artist Pamela Alderman to help guide residents through art engagement projects. Under the direction of Pamela, seniors from all levels of care created six interactive healing pieces. The final work was showcased during Holland Home's Long-Term Care Week.
One resident's son said this:
My mom had a great time in your art class. You truly encouraged and challenged her by helping her to be part of your art. Thanks for all you do for those with their own broken wings.

Mark
Are you interested in exploring creative possibilities for your senior retirement community? Contact Pamela.
Influencing Culture Through Art
Broken Wings
September 19 - October 7, 2018
Grand Rapids Public Museum
Grand Rapids, Michigan
In light of the recent tragic school shootings across America, find out how you can create positive change from national bullying specialist Jeff Veley.
Share your story #BrokenWings
This healing art involves you—because you matter!
Broken Wings at ArtPrize Ten
Broken Wings, Pamela's interactive art installation at ArtPrize Ten in September.
Broken Wings
September 19 - October 7, 2018
Grand Rapids Public Museum
Grand Rapids, Michigan
Broken Wings invites a response. Like the monarch butterflies clustering on trees to survive, let's work together to help bring an end to the suffering, chaos, and brokenness. From the broken wings of Columbine, Parkland, and Santa Fe—let's make new choices for a better future. Let's help heal our nation.
This healing art involves you—because you matter!
The Scarlet Cord at Cornerstone University
The Scarlet Cord: Healing for Sex-trafficked Children is now showing at Cornerstone University in Grand Rapids, Michigan. Students and community members are invited to interact with the work by tying a scarlet cord. The scarlet cords are a reminder that children are enslaved in human trafficking all around the world—and even in places like Grand Rapids, Michigan.
The Scarlet Cord
March 12 - 14, 2018
Cornerstone University
Grand Rapids, Michigan
Let Go Coming to ArtPrize Nine
Keeping Hope Alive
ArtPrize Nine: Let Go
September 20 - October 8, 2017
Amway Grand Plaza Hotel
Grand Rapids, Michigan
Voted Top 25 in Time-Based
The Scarlet Cord at Meijer Gardens
The Scarlet Cord exhibit, presentation, and film will be featured at the Manasseh Project #StopThisTraffic Conference: Ending the Sexual Exploitation of Children on October 6, 2017 at Meijer Gardens.
GVSU Exhibit and Presentation
The NEW Scarlet Cord: Healing for Sex-trafficked Children
The Scarlet Cord Collection with Night Cries and The Scarlet Web will be unveiled at Grand Valley State University. The evening will include a presentation by artist and facilitator Pamela Alderman and an opportunity for the visitors to co-create with the new interactive healing installation.
Grand Valley State University - Frederick Meijer Honors College
Exhibit: April 3 to 7, 2017
Presentation: Wednesday, April 5, 2017 from 6:00-8:00pm
Frederik Meijer Honors College (multi-purpose room)
120 Niemeyer
4046 Calder Drive
Allendale, Michigan 49401
Sponsored by Frederick Meijer Honors College, GVSU Women's Center and Eyes Wide Open
Healing in Arts and Mockup at the Grand Rapids Public Museum School
Pamela will walk Lyceum students through the steps of art making for an ArtPrize mock up installation—including a mini ArtPrize exhibit for family and friends on the last day of class.
Grand Rapids Public Museum
January 12, 2017 through April 20, 2017
Healing in Arts—A Pathway to Flourishing
"Healing in Arts: A Pathway to Flourishing," Q Commons, Ladies Literary Club of Calvin College; Grand Rapids, Michigan
Thursday, October 13, 2016
Color Me Orange—Color Me Kind
Color Me Orange—Color Me Kind raises awareness of school bullying and can empower students with kindness
Coloring with kindness
ArtPrize Eight
September 21 through October 9, 2016
Gerald R. Ford Presidential Museum
Grand Rapids, Michigan
Voted Top 25 in Time-Based
Tell us your story: #ColorMeKind
Hometown Hero II at the Pentagon
Because of the generous support from the Ottawa-North Kent Blue Star Mothers MI-194, Hometown Hero II exhibited at the Pentagon in Washington DC in September of 2016.
Reflections of Generosity Exhibit featuring Hometown Hero II
Pentagon, Washington D.C.
September 5 - 17, 2016
The Department was thrilled to be able to host the Reflections of Generosity [and Hometown Hero II] exhibit for Suicide Prevention Month 2016. This exhibit brings awareness that art may help increase the ability to cope and help decrease stress through artistic expression and also identifies a social support service available to Service members, their families and DoD Civilians. It also focuses on how the arts may be a way to elevate spirits, inspiration, and healing. We know that having social support and feeling connected to something and inspiration are protective factors, we wish to increase. The exhibit was an overwhelming success, we're hopeful to host this talented group each year.
Wendy Lakso
Director, Outreach and Education
Defense Suicide Prevention Office
See Reflections of Generosity featured on FOX21 News…
Live Painting Added to Ada Twp Art Collection
Pamela's live painting during the Arts in Ada festival is featured on WZZM13 and mLive. The 18 x 24 inch watercolor painting created in front of a live audience is now part of the permanent Ada Township art collection.
See feature on WZZM13…
See feature on mLive…
Photo credit: Arts in Ada
Healing in Arts Presentation
Art is to console those who are broken by life.

Van Gogh
Healing in Arts is about caring for people. Brokenness is universal, part of our human condition. Whether individuals are experiencing distress from physical, mental, or emotional issues, art touches deep places within the human spirit.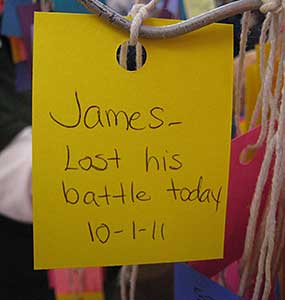 In 2011, during the Braving the Wind installation, one young woman waited at the Healing Tree with her phone while her friend spent the last minutes with their dying friend, James. The minute James died, the phone call came and the young woman hung a card on the tree—a sacred moment for the two survivors.
Healing tears often flow as the art unlocks the soul. The art serves as a catalyst when individuals find their own pathway towards healing. Healing in Arts helps people process their pain, deepen relationships, and experience hope and healing.
Healing in Arts by Pamela Alderman
When and Where:
International Culture Care: Music, Beauty, and Creativity
Fuller Theological Seminary • Pasadena, California
March 3 through 4, 2016
The Scarlet Cord and Film at GVSU
The Scarlet Cord and Film – Healing for Sex Trafficked Children
Grand Valley State University, Allendale campus
February 1 through 5, 2016
Film screening and presentation: Thursday, February 4 at 7-8:30 pm
Mary Idema Pew Library • Multipurpose Room
Sponsored by the Meijer Honors College and the Political Science Department, and the Joseph Stevens Freedom Endowment
Courage Ablaze at MSU!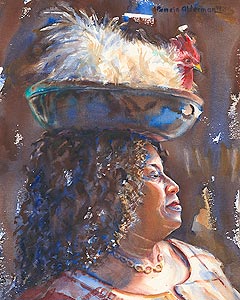 Courage Ablaze is a museum quality traveling exhibit that has been experienced by over 70,000 people. The work serves as a megaphone—speaking with tender boldness.
Courage Ablaze pillars, icons of strength, invite movement and involvement. As viewers encircle the 7-foot pillars, they engage with the image on the front and the story printed on the back. The charred frames on the Flame Tree portray suffering while the vivid colors of the Congolese images highlight beauty and hope.
Additional elements such as five child rape textiles, a ten-foot oil painting, and twenty-five watercolor portrait paintings draw viewers into the heart of the Congolese women—leaving an unforgettable impact.
Courage Ablaze: The Women and Children of Congo
Michigan State University
LookOut! Gallery
MSU Residential College in the Arts and Humanities
November 2 through November 19, 2015
Courage Ablaze & The Hidden War of Congo is a 90 minute presentation designed to raise awareness of the war on innocent civilians in Eastern Democratic Republic of Congo, particularly on the women. Kizombo Kalumbula, a naturalized Congolese professor and director of International Berean Ministry, presents the reasons for the conflict and the complex history of the region.
Pamela Alderman, a renowned watercolor artist, shares the tragic stories of Congolese refugees that she's recorded in word and portraits, and demonstrates our connection to the troubles. "Le Clay" a Congolese refugee family choir, humanizes the statistics by singing Congolese songs in French, Lingala, and Swahili.
A question and answer period follows. Pamela's artwork acts as the backdrop for the presentation and may remain in the facility for student viewing. Participants leave with knowledge of the almost unreported, but largest, war since WWII, and a variety of "things they can do" to make a difference.
Presentation and Opening Reception
Tuesday, November 10 at 5:00 p.m.
MSU Residential College in the Arts and Humanities • RCAH Theater
362 Bogue Street, East Lansing, Michigan
Free admission and open to the public
Hometown Hero Featured on WOOD TV 8
ArtPrize Seven (2015) Exhibition: Hometown Hero
Voted Top 20 and 3rd Place in Time-Based
Hometown Hero
September 23, 2014 through October 11, 2015
Amway Grand Plaza Hotel
Grand Rapids, Michigan
Pamela is a participating ArtPrize artist since 2009
Learn more about Hometown Hero..
The Scarlet Cord Film Premiere
The Scarlet Cord Film Premiere Partnering with Women At Risk International
The Scarlet Cord film features the reactions of those who walked through my ArtPrize 2014 installation in Phoenix during the 2015 Super Bowl. This touching film features trafficking and sexual abuse survivors who also shared their reactions as they experienced the art.
This event will also feature a panel that includes Pamela Alderman; WAR International president Becky McDonald; Elise Hilton, author of A Vulnerable World and communication specialist at Acton Institute; Senator Judy Emmons; and Vanessa, a trafficking survivor and awareness advocate.
A special thanks to all the gracious donors who helped make this amazing video possible!
See the Video Premiere:
Grand Rapids Public Museum
Tuesday, September 15, 2015
6:00 pm to 8:00 pm
Purchase your $5 tickets through WAR International
The Tragedy of Human Trafficking
The Evils of Human Trafficking was featured as part of the Acton Lecture Series in May 2015.
The Scarlet Cord at Acton Institute
This unique event will offer insight into the world of human trafficking, while offering hope and ideas for action. Elise Hilton, author of A Vulnerable World: The High Price of Human Trafficking will speak about trafficking on global and local levels. Artist Pamela Alderman, whose work The Scarlet Cord will be on display, will discuss her experience of depicting human trafficking.
Details:
When – Wednesday, April 29, 2015, 7:00 pm • Doors open at 6:30
Where – Mark Murray Auditorium • Acton Institute • Grand Rapids
Cost – Regular Admission: $20 • Students: $10
Additional Information – RSVP by April 22 • Get more details at acton.org
Award-Winning Child Trafficking Exhibit Comes to Phoenix
The Scarlet Cord is a moving tribute to victims
Roosevelt Row Art District
January 23 through February 1, 2015
Sponsored by StreetLightUSA
Pamela Alderman is the artist who created The Scarlet Cord. The unique art exhibit is housed in a 40-foot storage container. Here visitors encounter 30 weathered doors and portraits bound by a twisted scarlet cord to depict the trauma bond that connects abused children to their traffickers. Alderman's motivation for The Scarlet Cord exhibit was to inspire healing for sex trafficked children and those who have been negatively impacted by the sex industry around the world.
The Scarlet Cord Travels to NCMC
The Scarlet Cord traveled to North Central Michigan College to be exhibited there from October 26 through 30, 2014.
The Scarlet Cord on eight West
Jessica Rowland of Women at Risk International and Pamela were interviewed September 3, 2014 on WOOD TV 8's eight West about ArtPrize and child trafficking in West Michigan. Upcoming events and opportunities for people to make a difference were discussed and that information is also available on the WOOD TV 8 page.
ArtPrize 2014 Exhibition: The Scarlet Cord
Voted Top 25 Installation
The Scarlet Cord
September 24, 2014 through October 12, 2014
Gerald R. Ford Presidential Museum
Grand Rapids, Michigan
Pamela is a participating ArtPrize artist since 2009
In partnership with:

Learn more about The Scarlet Cord..
Courage Ablaze at Grand Rapids Community College
Courage Ablaze will be a featured at Grand Rapids Community College. The Courage Ablaze collection depicts Congolese women and children living in West Michigan, who have endured unspeakable trauma with the spirit of true courage. Artist Pamela Alderman and Congolese leader Kizombo Kalumbula will discuss "Courage Ablaze & The Hidden War of Congo" from 6:30 to 8:30 p.m. on March 10, 2014 in Sneden Hall.
Pamela Interviewed on WJR Radio Show
On October 15, 2013, Pamela's Wing and a Prayer project was featured during an interview on the WJR Radio show, Ready, Set, Go—All Things Autism. Listen to the audio for that interview below:
Wing and a Prayer Voted Top 50 Finalist!!
Thank you for visiting Wing and a Prayer. I appreciated all your support and votes.
ArtPrize 2013 Interviews with Shelley Irwin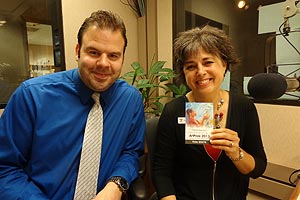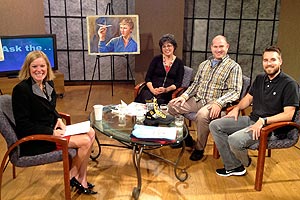 Pamela was interviewed twice by Shelley Irwin on September 19 about the Wing and a Prayer exhibit at ArtPrize 2013. On the radio Morning Show, she was joined by Joe from Hope Network to discuss the children being featured and the story behind Wing and a Prayer. She got to discuss the exhibit again as an "Ask the ArtPrize Artist" guest on the WGVU TV show.
"Healing Power of Art" at the Public Museum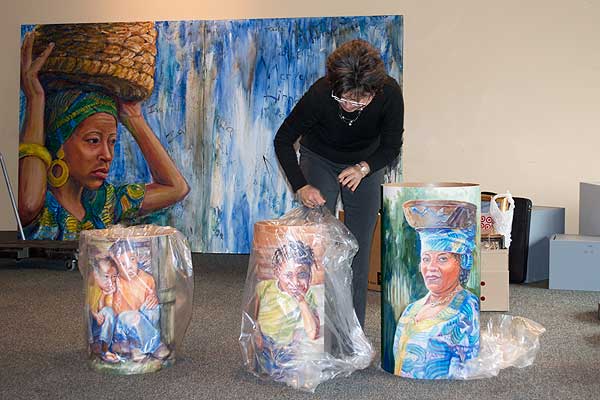 Setting up for the "Healing Power of Art" presentation at the Grand Rapids Public Museum on September 17, 2013
ArtPrize 2013 Exhibition: Wing and a Prayer
ArtPrize 2013 Wing and a Prayer collection celebrates the children within Hope Network. These special children and their families inspire others to rise above adversity and give hope wings.
Wing and a Prayer
September 18, 2013 through October 6, 2013
Amway Grand Plaza Hotel
Grand Rapids, Michigan
A special thank you to the model who posed for the artwork.
Pamela is a participating ArtPrize artist since 2009
Original art by Pamela Alderman ©2013 Pamela Alderman - All Rights Reserved
Courage Ablaze in Permanent Collection at GVSU
A reproduction of the Courage Ablaze painting featured at ArtPrize 2012 has joined the permanent collection at Grand Valley State University.
Courage Ablaze Voted Top 100 Finalist!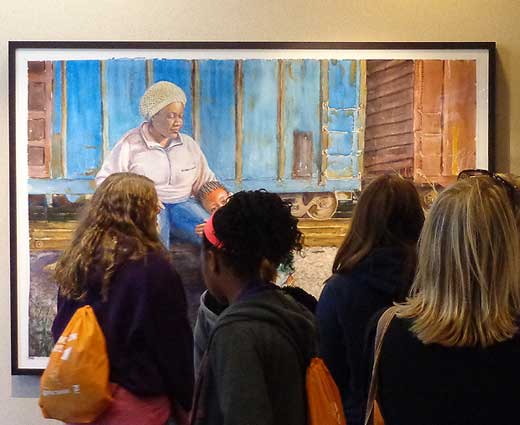 Thank you to all who visited Courage Ablaze and for your votes and support. Courage Ablaze finished in the Top 100!
Courage Ablaze Featured by Local Businesses
I would like to thank Macy's and Barnes & Noble of Rivertown for their continued support of my ArtPrize entries:
Macy's of Rivertown Mall (above left)
Barnes & Noble of Rivertown Mall (above right)
2012 ArtPrize Entry: Courage Ablaze at the Amway Grand Plaza Hotel
Courage Ablaze at ArtPrize 2012
September 19, 2012 through October 7, 2012
Amway Grand Plaza Hotel • Grand Rapids
Women's Expo 2012 at DeVos Place
Hundreds of visitors added more Hope Cards to the Healing Tree at Women's Expo 2012. After ArtPrize 2011 and Women's Expo, more than 20,000 Hope Cards were added to the Healing Tree to honor loved ones fighting cancer.
Hope Lodge Showcases Pamela's ArtPrize 2011 Work
Braving the Wind joined the permanent collection at the American Cancer Society Hope Lodge. I would like to thank Miller Johnson of Grand Rapids for its generous support of my ArtPrize 2011 entry.
ArtPrize 2011 Exhibition: Braving the Wind
Kara, a Metro Health Cancer Center survivor, inspired the Braving the Wind series for ArtPrize 2011. She was only 28 when she was first diagnosed with lymphoma. Resolved to beat her cancer, Kara grasps this famous quote: "The miracle isn't that I finished; the miracle is that I had the courage to start."
Braving the Wind
September 21, 2011 through October 9, 2011
Amway Grand Plaza Hotel
Grand Rapids, Michigan
Pamela is a participating ArtPrize artist since 2009
Original art by Pamela Alderman ©2011 Pamela Alderman - All Rights Reserved
Braving the Wind in Grand Rapids Press
Braving the Wind and the Healing Tree have been featured in the Grand Rapids Press. See the article on mlive.com.
Local Businesses Welcome Braving the Wind
Ron Zeiter, vice president of Macy's, writes, "In 2010, Pamela displayed a reproduction of her Art Prize entry portraying a heart disease survivor at Macy's. This past fall Pamela was kind enough to share her ArtPrize 2011 entry of a cancer survivor with the store. I commend Pamela on using her gift to advance awareness of woman's health issues and generously reaching out to the community to share her work."
Macy's of Rivertown (above left)
Barnes & Noble of Rivertown (above center)
D&W Fresh Market stores (above right)
Pamela Interviewed on Morning Show With Shelley Irwin
Pamela's WGVU Morning Show interview with Shelley Irwin was aired September 9, 2011 to discuss a behind the scenes look at the Braving the Wind watercolor series being featured at ArtPrize 2011.
Click here for more details and audio from the interview.
Braving the Wind Featured in Women's Lifestyle Magazine
The September 2011 edition of Women's Lifestyle Magazine features the story behind Pamela's ArtPrize 2011 exhibit, entitled Braving the Wind, which portrays the story a young cancer survivor from The Cancer Center at Metro Health. The viewer is also invited to participate in the artistic process by writing his or her own story or the names of loved one—who have bravely fought a cancer battle—on a Hope Card and hanging it on the Healing Tree. In doing this, we celebrate their memories, their continued perseverance, or their renewed health.
TWSA 35th National Exhibition
The Transparent Watercolor Society of America (TWSA) will be showcasing Pamela's painting, entitled Stillness, at the national exhibition. The exhibition runs from May 7, 2011 through July 31, 2011.
Kenosha Public Museum
5500 1st Ave.
Kenosha, WI 53140
2011 Women's Expo Features Woman in Red
Mark your calendar for March 11 through 13 and enjoy a day with a friend at the 2011 West Michigan Women's Expo. This year the Expo will be featuring Pamela's ArtPrize series Woman in Red, honoring the American Heart Association's Go Red For Women.
DeVos Place • 303 Monroe NW • Grand Rapids, MI
Solo Exhibition at Leep Gallery
Pamela's solo exhibition, entitled Healing Reflections, is being featured the first four months of 2011 at the Leep Gallery in Grand Rapids.
Exhibition details:
January 5 through April 1, 2011
Leep Gallery (located in the Postema Center)
Pine Rest Christian Mental Health Services
300 68th Street SE
Grand Rapids, MI 49548
The Leep Gallery is open weekdays, 9 am - 4 pm
Heart Center Adds ArtPrize Paintings
Pamela's ArtPrize 2010 paintings, entitled Woman in Red, are now being featured at the Heart and Vascular Center of Metro Health Hospital in Grand Rapids.
Guest Artist Series 2010
Throughout November and December, 2010, the Guest Artist Series of Saint Mary's Hospital in Grand Rapids was showcasing Pamela's artwork in their main lobby.
Saint Mary's Hospital
200 Jefferson SE
Grand Rapids, MI 49503
Watercolor by Pamela Teams up with Macy's
To help raise awareness for heart disease and the Go Red For Women initiative, Macy's Department Store in Grand Rapids displayed Pamela's painting, entitled Standing Against the Wind, during September and October, 2010.
Philadelphia Water Color Society Exhibits Companions
The Philadelphia Water Color Society selected Pamela's painting entitled, Companions, for the 110th Anniversary International Exhibition of Works on Paper.
Woman in Red
The American Heart Association's Go Red For Women movement inspired Pamela's Woman in Red series that exhibited at ArtPrize 2010.
ArtPrize 2010
September 22, 2010 through October 10, 2010
Amway Grand Plaza Hotel • 187 Monroe NW • Grand Rapids, Michigan
Solo Exhibition at Children's Hospital of Wisconsin
July 1, 2010 through July 31, 2010
The Sky Walk Gallery at Children's Hospital of Wisconsin
Milwaukee, Wisconsin
Companions Painting Featured at ArtPrize 2009
For ArtPrize 2009, Pamela's original watercolor painting, Companions, was on display at Open Concepts Gallery in Grand Rapids.
2009 National Juried Art Exhibition at Hilton Head, SC
The Art League of Hilton Head selected Pamela's paintings entitled, Intent, for the 2009 National Juried Art Exhibition. The exhibition was held at the Walter Greer Gallery, Arts Center of Coastal Carolina, Hilton Head Island.